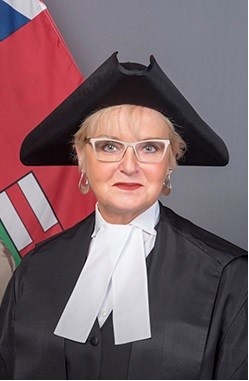 Myrna's path in life is rooted in her strong desire to make a difference.  Having served as a nurse, a leader in the area of missing and exploited children, and as an elected Member of the Legislative Assembly in Manitoba, Myrna's many roles have reflected this calling to help make her community a better place. 
Myrna was elected Speaker of the Legislative Assembly of Manitoba on May 16, 2016. She  has held a number of diverse critic roles in the past including that of Interim Leader of the PC Party of Manitoba, Deputy Leader, Critic for Health, Status of Women,  Finance, Civil Service & Crown Corporations Council, Child & Family Services, and Education.  During her first year  she was the Legislative Assistant to the Minister of Health. She has been a member of the Public Accounts Committee and  the Standing Committees of WCB & Children's Advocate.
Myrna was also the chair of the Northern Lights Committee of Caucus which worked towards the development of an economic strategy for northern Manitoba. 
Myrna has had the rare success of having five Private Members' Bills passed. 
In 2011, Myrna was elected for a three year term as Chair of the Canadian Region of Commonwealth Women Parliamentarians (CWP) by her peers from across the country. In September, 2012, Myrna was also elected the Vice-Chair CWP International. CWP works for better representation of women in legislatures throughout Canada and the Commonwealth as well as strategizes and acts on gender-related issues in Canada and internationally. In 2022, Myrna took on the role of CWP President of CWP International.
Before entering public life, Myrna had a successful and rewarding career as a registered nurse with experience in general duty, nursing education, quality assurance, medical and nursing research, patient education, and nursing administration. Her nursing experience has led her to have a passionate voice for a better health care system.  
As President and Executive Director of Child Find Manitoba, Myrna was a leading advocate for the protection of children.  Her fierce determination and leadership were the driving force behind the early development of Child Find Manitoba, which as the Canadian Centre for Child Protection, is now recognized across Canada as a key player in child protection issues. 
Myrna's professional achievements have earned her recognition in the "Canadian Who's Who".  For service to her community, Myrna was presented the Queen's Golden Jubilee Medal as well as being made an honourary Rotarian. She is a member of Women of Winnipeg, an organization of women leaders identified as leaders in the community. 
Not afraid to take on a challenge, Myrna has been a strong voice for health, education, justice, and economic issues, and is a champion of youth, seniors' and women's issues.  Her persistence, as well as her strong belief in the power and ability of women, led to the establishment of the Nellie McClung Foundation and the monument of Nellie and the Famous Five on the grounds of the Manitoba Legislature. She currently is a Board Member of the Foundation and was the Co-Chair of The Centennial Gala: Celebrating 100 Years of Manitoba Women's Right to Vote.
As Speaker, Myrna chairs the Legislative Assembly Management Commission. She is also on the MLC Midwest- Canada Relations Committee as well as the Honourary President of the Association of Former Manitoba MLA's. Recently Myrna was also named as First Vice President, Regional Executive Committee, Commonwealth Parliamentary Association - Canadian Region.
Myrna and her husband, Hal live in Charleswood. She enjoys the company of friends, gardening, reading, photography, horseback riding, and the occasional round of golf.