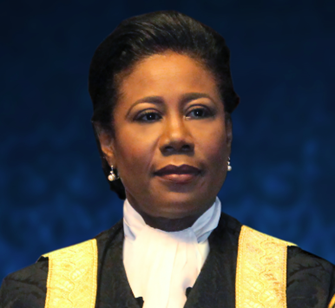 Mrs. Bridgid Mary Annisette-George, first entered Parliament as a Senator and Attorney General on November 8, 2007 in the 9th Republican Parliament. The then Attorney General, became the third woman to hold that post in the history of the Republic of Trinidad and Tobago.
In the 11th Republican Parliament, Mrs. Annisette-George, was elected as Speaker of the House of Representatives and is serving a second term in the designated role (12th Republican Parliament).
Speaker Annisette-George, is the second female in national history to serve for a consecutive term as a Presiding Officer and is responsible for the management and general administration of the House.
The Speaker, is also the Chairman of the Public Administration and Appropriation Committee (PAAC), an entity that examines the expenditure of the Executive in accordance with the budgetary approvals as provided for by the Parliament. Speaker Annisette-George, currently serves as the Vice-President of ParlAmericas for the term (2020-2022) and represented the Caribbean, Americas and Atlantic Region on the Commonwealth Parliamentary Association's (CPA) Working Group on Governance
between (2017-2021) and formerly served on the CPA International Executive Committee (2018-2020).
An alumna of St. Joseph's Convent, Port-of-Spain, Speaker Annisette-George is also a graduate of the University of the West Indies, having obtained her Bachelor of Laws in 1981 and thence her Legal Education Certificate from the Hugh Wooding Law School in 1983. Before assuming the portfolio of Speaker of the House, Speaker Annisette-George was a sole practitioner, having been admitted to practise law approximately forty (40) years ago.
Speaker Annisette-George, has held a wide variety of positions in both the private and public sectors including, Commissioner of the Port Authority of Trinidad and Tobago (1992-1995), Commissioner of the Securities and Exchange Commission of Trinidad and Tobago (2003), Chairman of the Diego Martin Regional Corporation (1999-2003) and Associate Tutor at the Hugh Wooding Law School in the areas of Probate Practice and Procedure; and Ethics, Rights and Obligations of the Legal Profession.
Speaker Annisette-George, is married with three children, a cultural enthusiast, enjoys reading and is passionate about the Arts.