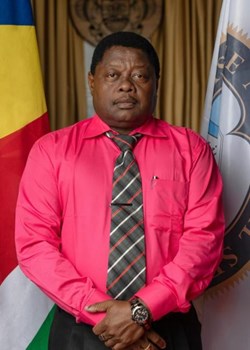 The Honorable Member, Mr. Churchill Gill was born on the 18th February 1965.
Hon. Gill completed his studies in several subjects pertaining to Business Economics, Business Law and Finance Management at the Seychelles Institute of Management in 1994.
He later went on to study Empowered Executive Management which he completed in 1997.
He worked in the hospitality industry and prior to joining the Berjaya Resort, he was employed with the Seychelles Hotels Limited from December 1984 heading the Finance Department until May 1994. 
He also worked with the Berjaya Praslin Beach Resort for 5 years heading the Finance Department.  He later went on to work as the General Manager for 21 years. Hon. Gill headed all the three resorts in Seychelles at one given time for three years.
In September 2016, he was elected as a Member of the 6th National Assembly for the District of Baie St Anne Praslin for the Parti Lepep Political Party.   
In 2020, Hon. Gill was re-elected as a member of the 7th Assembly for the District of Baie St Anne Praslin for the United Seychelles Political Party. He is a Member of the Finance and Public Accounts Committee, Bills Committee and the Defence and Security Committee.