Virtual Commonwealth Youth Parliament 2021
Event Details
Date: 18 - 22 October 2021
Location: Virtual
Event Summary
The Commonwealth Youth Parliament (CYP) is an opportunity for young people from the Commonwealth to experience aspects of parliamentary democracy and provides a platform for them to establish links with like-minded peers. The event offers young people the chance to experience a 'real-life' working parliament or legislature. In the programme, formal parliamentary practice adapted from several Commonwealth countries is followed and the proceedings are observed under the watchful eyes of experienced parliamentary officials.
The Commonwealth Youth Parliament, which will be held virtually this year, is open to Commonwealth citizens aged 18-29 (at the time of the event). The programme is the flagship event of the CPA's youth engagement work, which seeks to encourage young people to get involved in democracy.
Watch | A week at the Virtual Commonwealth Youth Parliament
Participants and Guests
This year, 64 young citizens from 40 Commonwealth jurisdictions will participate in the programme. 
They will be joined by some of the youngest Parliamentarians in the Commonwealth, who will act as the Presiding Officers for the Parliament. The Presiding Officers are:
Hon. Te-Hani Brown (Member of the Parliament of the Cook Islands)
Senator Sam Mezec (Member of the States of Jersey)
Hon. Kyle Knowles MP (Member of the Turks and Caicos House of Assembly)
The CPA has also partnered with leading international and Commonwealth organisations to provide speakers for the event, who will act as expert witnesses during the Committee sessions, when participants review the content of a mock bill.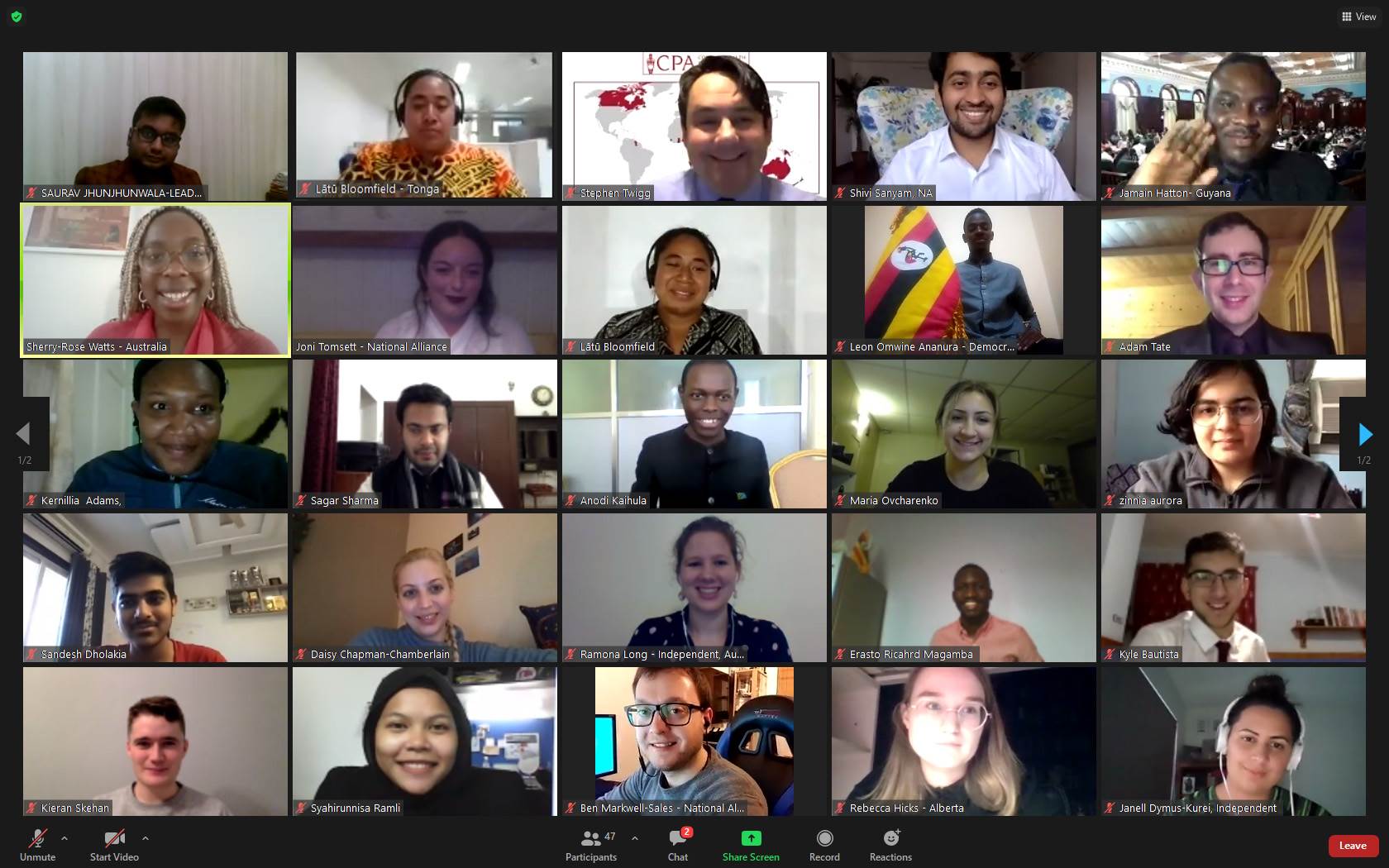 Revisit Virtual CYP 2020
Find out more about what happened at our first ever Virtual Commonwealth Youth Parliament
Virtual CYP 2020
Find out more
For more information about the Virtual Commonwealth Youth Parliament, please contact Clive Barker, Programmes Manager, clive.barker@cpahq.org. 
Useful Links
Youth Engagement
Learn more about how we engage with future Commonwealth leaders.