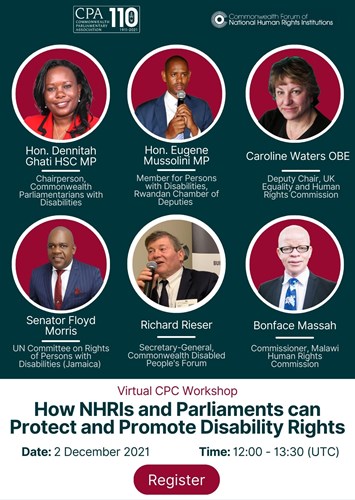 Date: 2 December 2021
Time: 12:00 UTC
Speakers:
Chair: Senator Floyd Morris, Member of the Senate of Jamaica,
Representative of Jamaica on the UN Committee on the Rights of Persons with Disabilities
Hon. Dennitah Ghati, Member of the National Assembly of Kenya and Chairperson of Commonwealth Parliamentarians with Disabilities
Caroline Waters OBE, Deputy Chair of the UK's Equality and Human Rights Commission
Hon. Eugene Mussolini MP, Member of the Rwandan Chamber of Deputies for Persons with Disabilities
Richard Rieser, Secretary-General of the Commonwealth Disabled Person's Forum
Bonface Massah, Commissioner, Malawi Human Rights Commission
This session will bring together the Commonwealth Parliamentarians with Disabilities (CPwD) network and the Commonwealth Forum for National Human Rights Institutions (CFNHRI) to discuss how the rights of the Commonwealth's citizens with disabilities can be defended and how their representation in democratic institutions can be improved, especially in the context of the COVID-19 pandemic and its aftermath. The session will have a particular focus on how these rights can be addressed by the Parliaments of the Commonwealth in the legislation that they pass.
The workshop will be translated in American Sign Language (ASL) and live transcription will be provided by a palantypist (speech to text reporter).
Contact: Clive Barker, Programmes Manager, clive.barker@cpahq.org