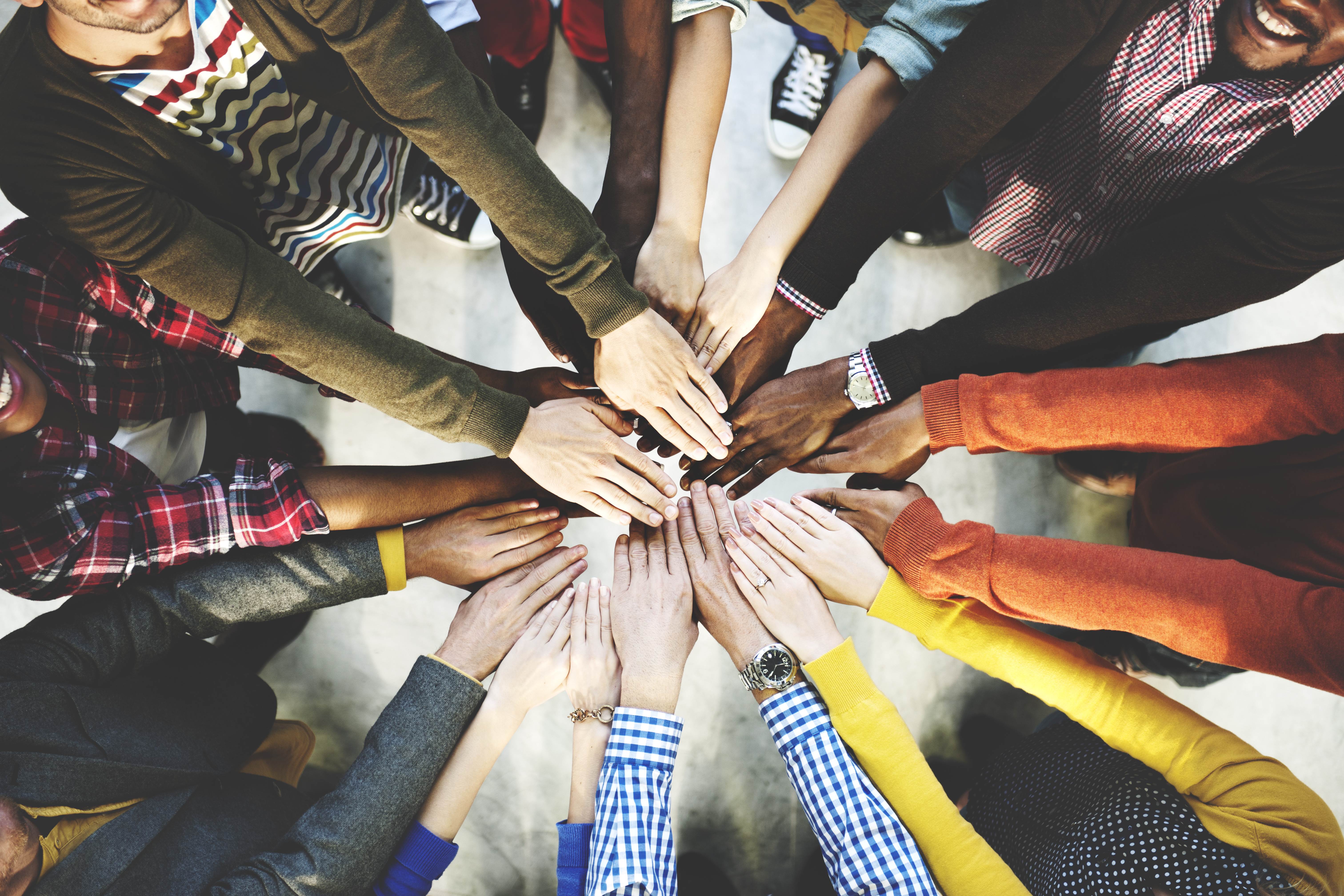 Blog Post: Equality for all in the Commonwealth
Monday 17 May 2021
To mark this year's International Day Against Homophobia, Transphobia and Biphobia, Commonwealth Parliamentarians from Australia (Federal, South Australia and New South Wales), New Zealand and Canada share their experiences.
---
Blog Post: Progress and pain in equal measure for LGBTIQ+ Rights in New South Wales
On this year's International Day Against Homophobia, Transphobia and Biphobia, I note the progress and the pain.
Progress that I can marry another woman if I want to and that LGBTIQ+ people in Australia are free to marry anyone they like.
Pain that six out of ten Lesbian, Gay, Bisexual, Trans and Intersex people have experienced verbal homophobic abuse, two out of ten have experienced physical homophobic abuse and we can all be lawfully discriminated against on religious grounds in Australia.
Progress that 84 Commonwealth (of Australia) laws that discriminated against same-sex couples and their families in finance and the workplace were removed.
Pain that half of LGBTIQ+ people (including me) say that they have hidden their sexuality or gender identity at certain events out of fear.
As COVID-19 continues to have negative impacts across the globe it is important to reflect on this day the differentiated impact that the pandemic has had on marginalised groups.
This year's global theme 'Together: Resisting, Supporting, Healing' is a testament to where we have come from and where we need to go. #TogetherWeAreIDAHOTB.

Hon. Tamara Smith MP is the Member for Ballina in the Parliament of New South Wales, Australia representing the NSW Greens party and proudly serves her community on Bundjalung land. Tamara is also the first woman to represent the electorate of Ballina and the first Greens MP in a regional seat in any Parliament of Australia.
---
Blog Post: Working together across all communities in Canada to promote equality
As I stood on Parliament Hill in Ottawa, Canada on 1 June 2016 watching the Canadian Prime Minister, Rt Hon. Justin Trudeau raise the Pride Flag, I could not help but reflect on how far Canada and Canadians had come in guaranteeing the rights and freedoms of the lesbian, gay, bisexual, transgender, queer, and Two-Spirit communities in my lifetime. I also recognised the challenges faced by LGBTIQ+ communities around the world, including among our Commonwealth partner countries. It was a moment of both pride and humility.
As one of only four openly gay Members of the House of Commons in Canada, we continue to be underrepresented. Nonetheless, we forge on with the help of allies, including significant Ministers, who ensured that we were able to successfully add transgender rights, broadly known as gender expression and gender identity, as protected grounds to the Canadian Human Rights Act and to the Criminal Code provisions dealing with hate propaganda and incitement to genocide. More recently, our government introduced a Bill, now in its final stages, which would place a national ban on so-called conversion therapy.
The flag-raising event in 2016 was attended by Members of Parliament and Senators representing all federal Parties. It was a non-partisan expression of pride but also of hope, as there was an implicit understanding that all politicians should be equally committed to inclusion and diversity. We are not there yet, but each new Parliament in Canada brings increased tolerance, even generosity such that inclusion will ultimately become a Canadian reality.
The rights that are enjoyed in Canada are not equally shared around the world. Painful reminders include countries where same-sex relations are banned, even to the point of capital punishment upon conviction. Few countries extend full rights to spouses of partners, while equal marriage rights are still far too rare. Police persecution, imprisonment and community shunning are still far too prevalent. And legislators, even while holding progressive personal opinions, still too often face harassment if they express support publicly.
Perhaps uniquely, prior to my political life, I was a Protestant Minister in the United Church of Canada. The long march towards LGBTIQ2 rights in Canada, often fought by communities of faith, found a home in our Church. The debates of the 1980s, which led to both inclusion of all as ordained leaders in the church as well as the recognition of same-sex marriages, helped open a path for both courts and governments to expand our rights and build a more inclusive society. Rooted in biblical traditions, in the Christian faith, and committed to interfaith dialogue, I am elected by a broad community including the largest Muslim community in Canada. Faith should be our ally as sexual and gender diverse people seek dignity, inclusion, and respect.
To Commonwealth allies who are legislators: please stand up for the rights of all on this International Day Against Homophobia, Transphobia and Biphobia. To LGBTIQ+ friends around the world: stay strong and reach out for help. To the CPA: thank you for the opportunity to share this day with friends and colleagues around the world.

Robert Oliphant MP is a Member of the House of Commons in the Parliament of Canada. Robert was first elected from 2008 to 2011 and then re-elected in 2015. Robert currently holds the office of Parliamentary Secretary to the Minister of Foreign Affairs.
---
Blog Post: Providing visibility for LGBTIQ+ in the Australian Parliament
Happy International Day Against Homophobia, Biphobia, Intersexism and Transphobia! It's great to be celebrating IDAHOBIT across the Commonwealth. IDAHOBIT is such an important day to celebrate with our communities but also to acknowledge the issues we're dealing with and the discrimination we face, including in our Parliaments.
As far as I know, I am the only out bisexual person in any Australian Federal Parliament. I'm providing much needed visibility and highlighting the unique challenges faced by Bi+ people who are so often overlooked. I know there must be others (there are another nine MPs in the Australian Federal Parliament who identify as same sex attracted) but they are not out.
The discrimination and challenges faced by lesbian, gay, bisexual, pansexual, transgender and gender diverse, intersex, queer, and asexual people around the world are immense.
In Australia we've come a long way, but we've still got a long way to go. It's about time we reached the end of our journey towards equality!
It was fantastic to achieve marriage equality in 2017, but we still have discriminatory laws, particularly in schools run by religious organisations where it is still legal for students to be asked to leave the school and for staff to be sacked because they are same sex attracted or gender diverse.
Trans and gender diverse people face ongoing transphobia including in the Australia Federal Parliament where some politicians are very outspoken against trans women in particular, denying their very identity, and not supportive of young trans and gender diverse people to be able to express and affirm their gender identity and seek appropriate and psychological medical support.
Plus, despite the change in our laws, the ongoing stigma against being gay is best expressed by the fact that not one top level Australian Rules male footballer has felt able to come out as gay or bisexual!
I'm a member of the Greens, and it's been Greens' MPs and our party that have and will continue to lead the way in our Parliaments to ensure that every LGBTIQ+ person is treated equally and is free from discrimination.
We played an integral role in achieving marriage equality. We continue to advocate for the rights of transgender, gender diverse and intersex people. We're leading the charge against religious discrimination in our schools. We're calling for an end to unnecessary surgeries performed on babies and children with intersex variations and for trans and gender diverse people to access the life-saving health care they desperately need. We continue to shine a spotlight on the very real threat of violence against transgender, nonbinary and gender non-conforming people, as well as damaging and dangerous sexual orientation and gender identity change efforts.
Our Parliament isn't sitting on IDAHOBIT this year. This year I'll be celebrating in the community; but I'd like to share with you the motion I successfully moved through the Australian Senate last year:
That the Senate notes that:
a. On May 17th 1990, the World Health Organization removed homosexuality from the Classification of Diseases and Related Health Problems
b. May 17th is now recognised as International Day against Homophobia, Biphobia, lntersexism and Transphobia (IDAHOBIT)
c. IDAHOBIT is an opportunity to celebrate LGBTIQ+ people, and acknowledge the ongoing discrimination that LGBTIQ+ people still face in Australia and overseas
d. LGBTIQ+ people around the world are facing unique challenges in the context of COVID-19.
Calls on all Parliamentarians to:
a. Acknowledge the resilience and strength of LGBTIQ+ people, especially in these unprecedented times
b. Affirm and celebrate the many and varied contributions of LGBTIQ+ people in Australia
c. Condemn all forms of violence and discrimination against LGBTIQ+ people.
It would be great to share what other Parliamentarians have done across the Commonwealth in support and celebration of IDAHOBIT and our wonderful diverse LGBTIQ+ communities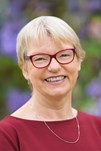 Senator Janet Rice was elected to the Australia Senate in 2014 and is the Australian Greens Spokesperson for LGBTIQ+ issues. Janet is also Co-chair of the Parliamentary Friends of LGBTIQ+ Australians. Please note this blog article is written in Janet's own capacity and not on behalf of the Parli Friends.
---
Blog Post: Being an openly-LGBTIQ+ legislator in New Zealand
To be an LGBTIQ+ Parliamentarian should be unremarkable. Yet when LGBTIQ+ people across the world continue to face violence and persecution, plus discrimination in areas such as employment, healthcare and sport, being an openly-LGBTIQ+ legislator stands out as a rare and remarkable accomplishment.
With so many LGBTIQ+ peoples feeling ostracised and unseen, representation and visibility is so important in our national Parliaments. It means LGBTIQ+ people can see somebody like them participating in the debates that determine their nation's future.
In New Zealand, we've recently elected the highest proportion of LGBTIQ+ MPs in the world. Our Parliament is now the most inclusive ever, with 10% of our Members identifying as openly-LGBTIQ+, and more women, indigenous and Pasifika voices than ever before. New Zealanders can look to their national Parliament and feel like they are seen.
To be elected is one thing, but to be a good lawmaker is another - we must also represent our citizens' concerns, their fears, their aspirations. We must advocate for laws that were it not for LGBTIQ+ voices, political parties would not have the courage to change.
I know what this can be like. Just over nine years ago, I introduced a Private Member's Bill to Parliament that sought to bring marriage equality to New Zealand; marriage between two people regardless of their sex, sexual orientation or gender identity. My NZ Labour Party had made relationship equality a manifesto commitment and it was my responsibility as Chair of our Rainbow Caucus to draft a Bill and to lead this legislative debate. My Bill highlighted discrimination the government continued to perpetrate against the LGBTIQ+ community and its ongoing detrimental effects on LGBTIQ+ citizens. The legislation was endorsed on both sides of the political divide in favour of everyone expressing their love and creating a family.
Marriage equality became law in 2013 and was achieved by working across parties, finding common ground, and building political consensus based on principles of equality and non-discrimination. As New Zealand now looks to ban the abhorrent practice of conversion therapy, this lesson needs to be remembered.
This lesson also applies globally and is why I am a member and co-founder of the Global Equality Caucus, a network of elected representatives across all continents who support LGBTIQ+ equality. The Caucus links legislators and civil society advocates to share knowledge and experiences in fighting for change. This is particularly important given that 70 countries still criminalize homosexuality, over half of which are in our Commonwealth community.
New Zealand is further along the road to equality than other Commonwealth countries, and that means we've much to share about our decolonization experience. So long as discrimination persists and colonial laws continue to prejudice our LGBTIQ+ family across the Commonwealth, we must collectively fight for decriminalization and equal rights. On this International Day Against Homophobia, Biphobia, Transphobia and Intersexphobia, I say to the global LGBTIQ+ community: Keep fighting, because change can come, and will come through our collective actions. We are never alone. Kia Kaha. Stay strong.

Louisa Wall MP (she/her/ia) is a Member of the New Zealand Parliament and was first elected to Parliament in 2008 and subsequently in 2011 and 2020. Louisa is a co-founder of the Global Equality Caucus.
---
Blog Post: Ensuring inclusive and equal access to government services in South Australia
As a Government in South Australia, we have been working towards ensuring that we are providing inclusive services, removing laws which discriminate against LGBTIQA+ South Australians and ensuring that everyone feels safe and supported in our community.
Our 2019 Community Roundtable has led to initiatives across a range of government responsibilities, including law reform, improvements in the health system and greater support for LGBTIQA+ policy work. Last year, amendments passed our Parliament to remove deeply offensive provocation laws. We also amended our spent convictions laws to enable people to have their past records expunged.
SA Health is currently consulting on what needs to be done to ensure we have a contemporary, state-wide model of care for gender diversity services. This model of care will articulate how SA Health and its partners deliver appropriate, timely and evidence-based health services for people across South Australia who are gender-diverse, and will span child, adolescent and adult services and include mental health responses.
We have funded the SA Rainbow Alliance to establish a Consumer Advisory Group, supported delegates to the Better Together Conference and funded specific LGBTIQA+ grants to focus on inclusion. The voice of lived experience is critical to informing us about how we can improve what we do so that everyone can achieve their goals and dreams.
IDAHOBIT is an opportunity to reflect on how far our community has come and work together to shape our future. Happy IDAHOBIT Day!
Hon. Michelle Lensink MLC is a Member of the South Australia Legislative Council since 2003. She was appointed as the Minister for Human Services in March 2018 and the portfolio includes responsibilities for social housing, disability, communities and social inclusion, women, youth and volunteers.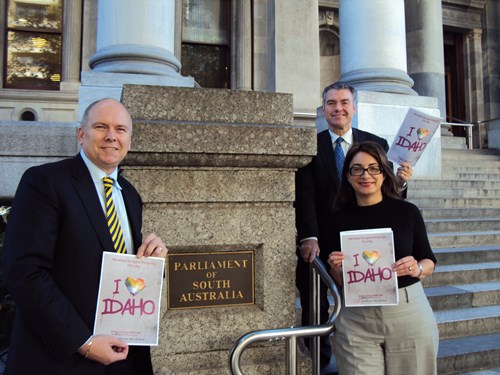 Three South Australia Cabinet Ministers – Hon. David Pisoni MP (Employment and Skills), Hon. Steven Wade MLC (Health and Wellbeing) and Michelle Lensink MLC (Human Services) pictured in 2012-13 supporting an earlier IDAHOBIT Day.
---
Blog Post: Education and law reform are the key to true equality
It saddens me to know that in 2021 we are still having a conversation about the rights of the LGBTIQ+ community – and that we still need an international day to take a stand against prejudice and bigotry. But as a proud ally as South Australia's Shadow Minister for Human Services, I stand with our LGBTIQ community in the fight for equality.

Thankfully, many have come before and started the battle, and I proudly continue where my predecessors left off. No one should face discrimination, abuse and legal inequality simply because of their sexuality or gender identity.

Here in South Australia, we have a proud history of law reform on the road to equality. We were the first Australian state to decriminalise homosexuality, and bit by bit we have changed our laws in the interests of fairness and equality.
But while we celebrate the achievements of the past, we know we need to do more. As a Parliamentarian in my local community, I know that side by side we can create positive change and perhaps in the near future, we can stop fighting for equality and just get on with the business of loving each other instead.

Like in many jurisdictions, momentum is building in South Australia to end harmful and dangerous conversion practices. These practices are rooted in the false and discriminatory idea that a person's LGBTIQ+ identity is a sign of brokenness, and can therefore be corrected. The stories of survivors, and the work of researchers and human rights organisations, tell us the lifelong impacts such practices can have. This is why I am exploring legislation to ban these practices.
But as a Parliamentarian and an ally, I know that the discussion surrounding law reform can be triggering and hurtful to many in the community – particularly survivors of trauma. This is why I am seeking to have respectful conversations with a wide range of individuals and organisations, and ensure the timing is right for the introduction of any legislation. Our responsibility isn't just to put legislation before the Parliament. We have a duty to do so in the right way, for the benefit of the very communities we are seeking to assist.

Reform also needs to go beyond the law, and we know that education can go a long way. This is why I am raising my family to be inclusive, to respect others for their quality of contribution and kindness of heart – regardless of sexuality or gender identity. And it is why I am exploring policy options to best support those in our community who have had barriers placed in their way.

We all have a role to play to support the diversity of our communities. I am proud to live in a rainbow world where we all belong. And I will continue to advocate and fight for the advancement of human rights of LGBTIQ+ people. This IDAHOBIT, I am immensely proud to reaffirm my commitment to this important work.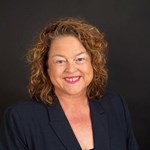 Hon. Nat Cook MP is a Member of the South Australian House of Assembly since 2014 and the Shadow Minister for Human Services. Nat is an anti-violence campaigner and has campaigned on this issue after the death of her son in a one-punch attack in 2008.
---
Blog Post: Supporting LGBTIQ+ citizens through social law reform
This IDAHOBIT, this day of commemoration, I would like to encourage Members to turn their minds to the next frontier. After the success of a years-long campaign for marriage equality some seemed to think that LGBTIQ equality had been won; we could stop now and not talk about it anymore. But I would like to assure Members it is not over. The battle has not been won.
Year 2020 statistics from the National LGBTI Health Alliance in Australia reveal that 16% of LGBTIQ+ young people aged 16 to 27 have reported attempting suicide, rising to 48.1% among transgender and gender diverse young people. In the recent fourth edition of La Trobe University's 'Writing themselves in' report, 40.8% of participants reported experiencing verbal harassment in the past 12 months based on their sexuality or gender identity, and 9.7% reported physical harassment or assault.
Even beyond the harm of conversion practices, there are many challenges our Parliament and our Government need to face, like the chronic underfunding of the Women's and Children's Hospital gender clinic, leading to enormous wait times for health care for our trans community members; like the discrimination faced daily by LGBTIQ+ people accessing health care and the desperate need for many GPs to better understand issues of sexuality and gender diversity; or like the fact that our Equal Opportunity Act continues to exempt religious bodies from needing to comply with antidiscrimination protections and that our equal opportunity commissioner is still underfunded and under resourced to carry out the work that is demanded of her office; and like the many other barriers and hurdles faced by LGBTIQ+ people in simply living their day-to-day lives and being their authentic selves.
In recent commemorations of the death and legacy of Dr Duncan there has been much discussion about this Legislative Council of South Australia and how this chamber was once dominated by conservative ideology which blocked reform for so many long years, delaying the decriminalisation of homosexuality in our state. I would like to acknowledge my friend, Hon. Anne Levy, who successfully led the debate on decriminalising homosexuality in this place in 1975. Hansard records her words in introducing this ultimately successful Bill:
I contend that our present law with regard to homosexual behaviour is neither humane nor compassionate. It causes unnecessary suffering, and serves no useful purpose. Indeed, it makes criminals of thousands of otherwise law-abiding citizens, and it makes a mockery of our social value of minority and individual rights.
I am glad that the South Australia Legislative Council agreed with Hon. Anne Levy on that third and final occasion of attempting to reform the law. Today, we have been at the forefront of more recent examples of social law reform. I am very pleased that many of us in this chamber have voted to support those changes, but it is in that spirit that I ask all honourable Members to support our LGBTI+ community, particularly our young ones, and to continue the work of ending discrimination against that community.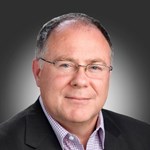 Hon. Ian Hunter MLC is a Member of the South Australian Legislative Council, representing the Australian Labor Party on the state list since 2006. Ian served in the Cabinet of South Australia from October 2011 to 2018.
---
Blog Post: Representing all citizens in the community in New South Wales
As the NSW Greens spokesperson for Sex, Sexuality and Gender Identity and the Member for the inner-city Sydney seat of Newtown, I know that representation of LGBTIQ+ issues in the New South Wales Parliament is extremely important. The community I represent prides itself on being a welcoming and inclusive place for anyone who visits or calls it home. I see it as my privilege and my responsibility to bring that allyship into the New South Wales Parliament with me every day.
The New South Wales Parliament can be a hostile place for LGBTIQ+ people, with very few out representatives, and a number of Members who are extremely forthcoming with their bigotry. That needs to change. It is vital that our Parliaments are welcoming to everyone, and that our elected representatives are mindful of the lives and experiences of everyone in their communities, particularly those who still face regular discrimination through our laws and our institutions.
The LGBTQ+ community is strong and resilient, and I am grateful to stand with and beside so many incredible community activists, working together towards positive change.
Over the last few years, together we have achieved marriage equality, an apology from the New South Wales Government for the abhorrent treatment of LGBTIQ+ activists during the 1978 Sydney Gay & Lesbian Mardi Gras and strengthened our vilification laws. We know there is so much more to do, and I give my commitment to continue to work with the community towards an overhaul to the New South Wales Anti-Discrimination Act to better protect trans and gender diverse people, an end to damaging conversion practices and birth certificate reform. It will not be easy, but together we can get there.
This IDAHOBIT, I pledge to do all that I can to represent the interests of our LGBTIQ+ community in the New South Wales Parliament as well as in our local community.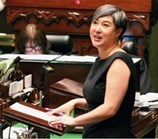 Hon. Jenny Leong MP is a Member of the New South Wales Legislative Assembly representing Newtown in Sydney for the NSW Greens since 2015.
---
The views and opinions expressed in the blog posts are those of the individual contributors and should not be attributed to the CPA or individual Parliaments.