Q&A: Grenada Women's Parliamentary Caucus
Glynis Roberts was first elected to the Parliament of Grenada in 2003. She served as a Member of the House of Representatives from 2003 to 2012, and as a Member of the Senate from 2018 to 2020. She is currently the Vice-President of the Grenada Women's Parliamentary Caucus. In this Q+A, Roberts offers an insight the history, vision, and activities of the Caucus. 
When was the Grenada Women's Parliamentary Caucus established?
Our Caucus was established in September 2010, as we approached the milestone of fifty years since Cynthia Gairy became the first woman to sit in the House of Representatives in 1961. Our first Chairwoman was Hon. Joan Purcell and here I am pleased to quote her first message as Chair, published in a booklet produced to mark the milestone in 2011.
"Twenty-nine of us had the opportunity to be honoured Members of Parliament – some for short periods, others for more demanding seasons. Our theme, 'Graciously and gratefully celebrating fifty years of parliamentary service', reflects the attitude of heart that underpins our differing levels of sacrifice and service and expresses our ongoing commitment to people, development and nation building. It is my heartfelt desire that our stories would be ringing testimonies and lasting legacies to all others who would follow us in service to country.
I wish to speak though, not only on behalf of those of us who were given the opportunity to get into the Houses of Parliament, but for all the women of Grenada who stayed in their own homes yet were actively involved in political processes to ensure the survival of a healthy democracy and the development of good governance in our nation state."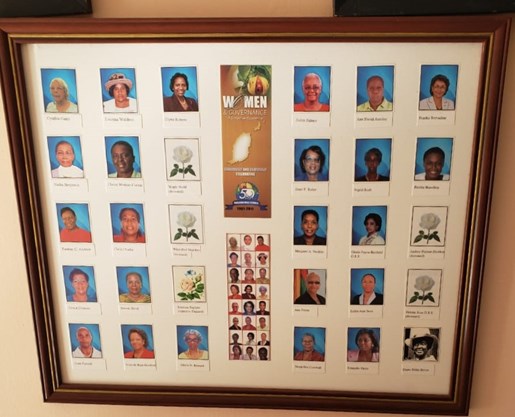 Members of the Grenada Women's Parliamentary Caucus
What are the functions and overall aims of the Caucus?
The aim of the Grenada Women's Parliamentary Caucus is to enhance democratic processes and to strengthen Legislatures by building the capacity of prospective female Parliamentarians and leaders regardless of political affiliation.
The Grenada Women's Parliamentary Caucus serves as a medium and common ground for addressing various issues surrounding women and seeks to bring a greater awareness to these issues. It acts as a voice for women and a forum for developing and maintaining strategies to empower women locally, regionally, and internationally. Given life's adversities, one of them being gender inequality, this parliamentary group serves as a platform to address these pressing issues.
There are many women who have served in different capacities throughout our nation's history. Some still play very active roles in th community and provide support to women who currently serve in these capacities. This forum is dedicated solely to meeting the needs and potentials of young, aspiring Parliamentarians. It provides a fair chance for all despite political affiliation. There is strength in numbers and with that strength, discrimination is not a factor.
The objectives of the Caucus are as follows:
To provide a forum for discussion and a platform for action on matters affecting women in the country, regionally and internationally across party lines.
To develop and establish norms and standards that promote the effective participation of women in Parliament.
To advocate for continued official recognition and acknowledgement of persons who have served in Parliament.
To network with other organisations and institutions concerned with issues pertaining to women and women's participation in political processes.
To promote and help sensitise all Parliamentarians to the principles of gender equality in the country, as well as regionally and internationally.
To advocate for legislation and implementation of the National Gender Policy for gender mainstreaming.
According to the Grenadian article, 'Women & Governance, 1961-2011', the Caucus has the support of its members who see the organisation as a means of 'mentoring young politicians especially females'. They are of the united opinion that through meetings, training sessions, workshops and seminars young people will be given a bird's eye view of the intricate workings of the political arena. These young persons will be given the necessary training required and they will be coached accordingly on attitudinal changes necessary for growth and success. In addition to this, they will be given first- hand experience on expectations as politicians.
Who can be Members of the Caucus?
The Caucus is comprised only of present and past female Parliamentarians, however, depending on the issue or presentation to be discussed, male Parliamentarians are invited, more so the Speaker and the President. The Caucus was scheduled to meet on the third Thursday of every month at 2:00 p.m. The group is formal in nature since there are some established rules.
What are some of the key issues that are discussed by the Caucus?
There are many issues that plague women in society and they are often discussed through this forum. These include:
The importance of women in Parliament
Having more women in Parliament and leadership
Sexual abuse and harassment
Establishing mentoring programmes for young women
Having a gender friendly budget
The treatment of Parliamentarians after they have left office
How to support women in society
As mentioned previously and as highlighted in the objectives listed, women's participation and appointment to key roles in society is a priority. Women are now in many crucial and significant roles throughout the world; not only in Parliament, but in many key professional and social capacities.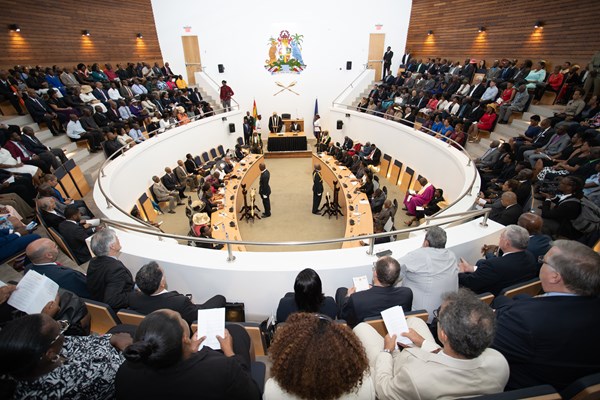 The chamber of the House of Representatives in the New Parliament Building, Grenada, opened in 2018.
How has the Caucus contributed to legislative progress on gender issues?
The Caucus played an important role and contributed to the work involved in drafting a Bill on sexual harassment and sexual abuse. As part of our work in this legislative process, the Caucus partnered with the Grenada National Organization for Women and the Ministry of Social Development.
How has the Caucus used partnerships with other organisations to further its aims?
The Caucus has collaborated with organisations such as the United Nations and the Caribbean Institute of Women in Leadership (CIWiL) and was fortunate to have the President of CIWiL make a presentation on how that organisation could assist with funding some of the Caucus' projects. Similar discussions were had in our relationship with the UN Representative. The Caucus has also collaborated with the Child Protection Authority and the Spotlight Initiative to support their causes.
---
Coming soon: Online course on effective women's parliamentary caucuses
This course will introduce the main methods used to establish women parliamentary caucuses, based on experiences from Parliaments across the Commonwealth and beyond. It will explore how institutions have garnered support, challenged resistance and taken advantage of a window of opportunity to successfully establish their women parliamentary caucus.
---
What are the main constraints on the Caucus' activities?
While women have served in this group over the years to mitigate these issues, the challenges in resolving these issues are many including attendance at meetings [which is difficult given the many membership commitments of Parliamentarians] and difficulty securing funding for projects. Despite these challenges, commitment is consistent. These women act as advocates for other women who are unable to do it themselves and for the holistic development of this gender.
Useful Links
News
Read the latest news about the CPA and its activities
Parliamentary Academy
Find out more about the CPA Parliamentary Academy - A Centre of Excellence for Commonwealth Parliamentarians