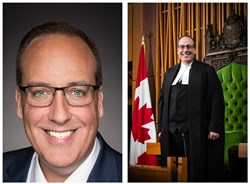 Chris d'Entremont is a proud Acadian from Nova Scotia. He was first elected on August 5, 2003, as MLA for Argyle-Barrington under the Progressive Conservative banner and held his seat in the Nova Scotia House of Assembly until 2019 having won four consecutive elections.
During his 17 years in provincial politics, Chris held several positions in the cabinet. He has served as Minister of Agriculture, Fisheries and Aquaculture, Acadian Affairs, Health and Community Services and was the Parliamentary Leader of the Official Opposition during his last six years.
As Minister of Health, he introduced Nova Scotia's first Continuing Care Strategy, which provided the best possible care for our seniors and launched the largest long-term care home building program in our province's history. Chris also introduced Canada's first family drug insurance program, helping Nova Scotians with catastrophic drug coverage.
In October 2019, Chris was elected as the federal Member of Parliament for the riding of West Nova and was at the time, the only Conservative representative elected in the entire province.
In September 2020, the Leader of the Official Opposition and Canada's Conservatives, Erin O'Toole, appointed Chris as the Shadow Minister for Intergovernmental Affairs and the Atlantic Canada Economic Promotion Agency.
In September 2021, Chris was re-elected as the Member of Parliament for West Nova. In November 2021, Chris was appointed as Deputy Speaker of the House of Commons and Chair of Committees of the Whole. In fact, he is the first Acadian and second from Nova Scotia to be appointed to these positions.
Chris has been married to his wife Anne for 25 years; they have two sons Alec and André.