Commonwealth Parliamentarians with Disabilities
Commonwealth Parliamentarians with Disabilities Chairperson recognised with award for legislative work on disability in Kenya
---
The Chairperson of the Commonwealth Parliamentarians with Disabilities (CPwD), Hon. Dennitah Ghati, HSC MP (Kenya) has been recognised with an award for championing the interests of people with disabilities in the National Assembly of Kenya.
Hon. Dennitah Ghati, HSC MP was recognised for a motion that she proposed in the National Assembly of Kenya urging the government to provide assistive devices and medical items free of charge to people with disabilities as well as providing replacement items when they become worn-out.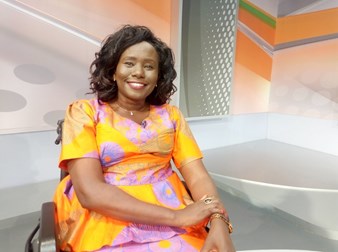 The Mzalendo Trust, a parliamentary monitoring organisation in Kenya, made awards to 12 Senators and Members of the National Assembly of Kenya in recognition of their 'outstanding performance in championing public interest issues in Parliament'. The awards were announced at The People's Shujaaz Awards ceremony, which was held in Nairobi.
Many of the legislators were recognised for sponsoring different pieces of legislation and seeking statements in Parliament in many different areas including education, health, welfare, food security, water and sanitation, and children's and youth affairs. Other areas highlighted were the environment and natural resources, energy, COVID-19 responsiveness and devolution.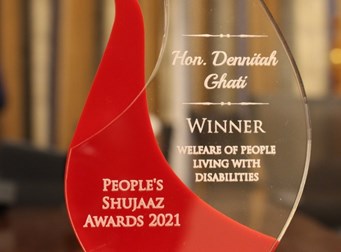 A statement from the award's organisers said that:
"The People's Shujaaz Awards aims at helping shine a light on some of the outstanding Parliamentarians who champion public interest issues on the floor of the House. The aim of these awards is to encourage Members of Parliament who keep striving to ensure issues of great public interest are debated on the floor of Parliament."
Members of the public were able to vote in the awards online and via SMS.
-ENDS-
The Commonwealth Parliamentarians with Disabilities (CPwD) network, within the wider Commonwealth Parliamentary Association, facilitates activities and programmes to champion and increase representation of persons with disabilities in Commonwealth Parliaments and works towards the mainstreaming of disability considerations in all CPA activities and programmes. The network supports elected representatives with disabilities in 180 Parliaments and Legislatures across the Commonwealth and ensures that issues of persons with disabilities are brought to the fore in parliamentary debate and legislation.

For media enquiries, please contact communications@cpahq.org. 
Find out more
The Parliamentarian
Read the latest issue of The Parliamentarian, the Journal of Commonwealth Parliaments
Library
Find CPA toolkits, handbooks, reports and documents supporting democracy and good governance in Commonwealth Parliaments