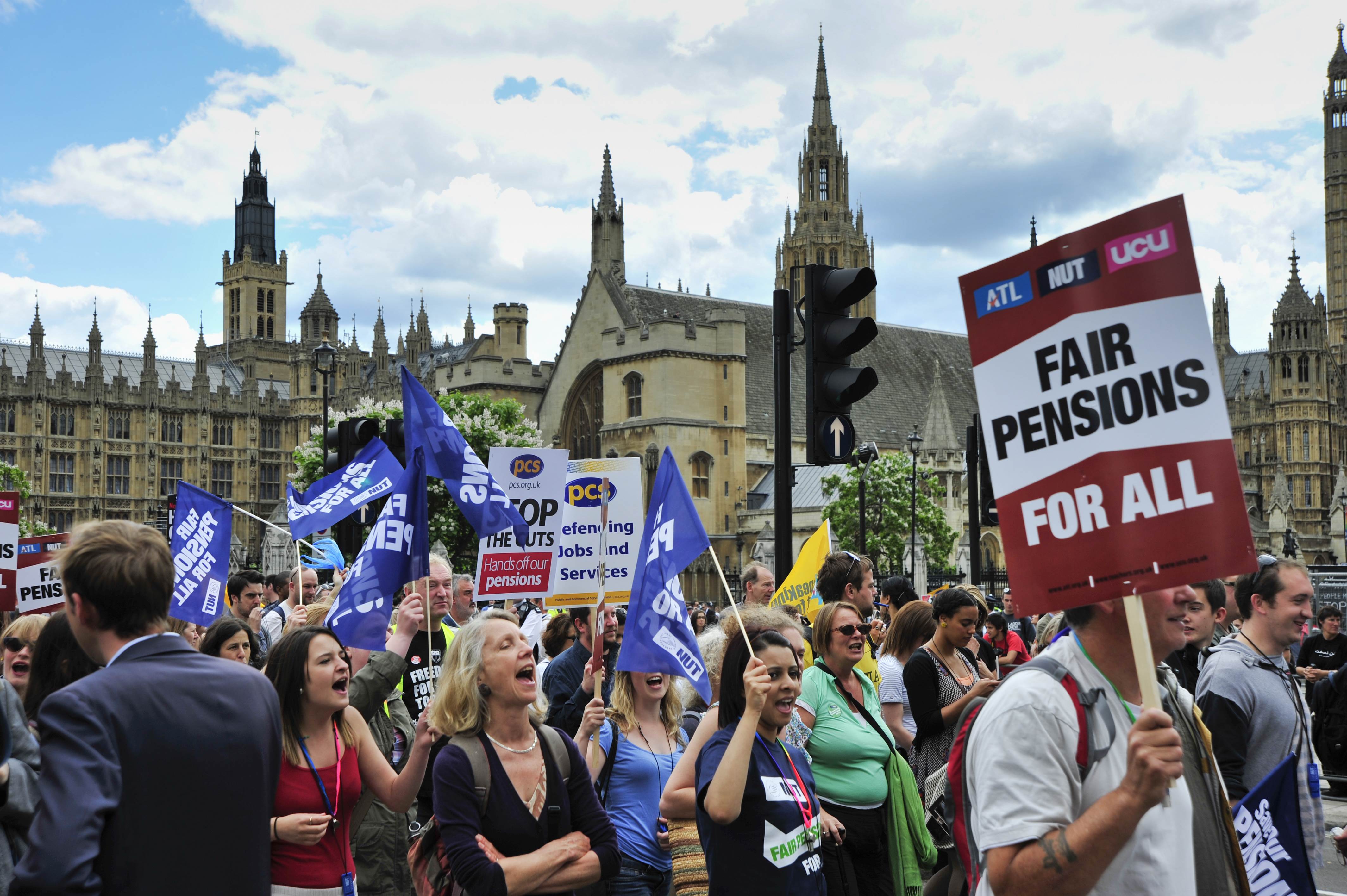 The role of trade union movements in democracy: A Commonwealth history
Owen Tudor, convenor of the Commonwealth Trade Union Group and Deputy General Secretary of the International Trade Union Confederation
There are trade unions in every Commonwealth country, from the smallest islands to the continent of Australia (and the rather larger populace of India, where the majority of the Commonwealth Trade Union Group's 70 million members live.) Trade unions are made up of people with no common bond of politics, race or religion. If you are a working person (and it doesn't matter if you have an employer or not, work on a farm, a factory, on the street or in your or someone else's home), you can be a union member.
Although the bread and butter of trade unionism has always been … well, bread and butter, ie wages, health and safety, resisting arbitrary employer disciplinary measures and so on, the role of trade unions has always been much, much more than that.
Even where we do focus on workplace issues, unions have a powerful role, often described in industrial relations studies as the 'sword of justice' – which is why women's wages in unionised workplaces are closer to men's than in enterprises without unions. Of course, wages are higher generally where unions can bargain collectively, which is one reason why this year has seen a strike wave in the United Kingdom, as union members demand wage rises to catch up with the rising cost of living, and a national strike for higher wages in South Africa in August.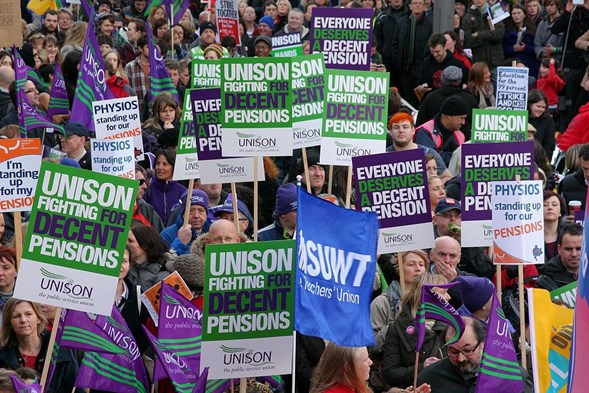 Unions in the United Kingdom strike in favour of decent pensions for workers. Image: Nick Efford. 
Unions at their best do so much more, as Members of Parliament across the Commonwealth know from their postbags and email inboxes.
Trade unions in many Commonwealth countries were central to the liberation struggles of the last century, and black South African unions, which eventually became the Congress of South African Trade Unions (COSATU), were crucial to the transition from apartheid to the rainbow nation. In Kenya, trade unions which recruited workers regardless of tribe, and were therefore practical laboratories for inter-racial agreement and unity, played a key part in preventing independence, as some feared, provoking internecine warfare.
Unions are often the training ground for political leaders: South African President Cyril Ramaphosa began his career as the Leader of the National Union of Mineworkers, Singapore's President Halimah Yacob was once the Legal Officer of the Singapore National Trades Union Congress and a worker member of the ILO Governing Body, Australia's Deputy Prime Minister Richard Marles is a former Assistant Secretary at the Australian Council of Trade Unions, and New Zealand's Prime Minister Jacinda Arden once unsuccessfully applied for a job at the British TUC, telling a TUC Congress some years later "you maintain a very high bar!"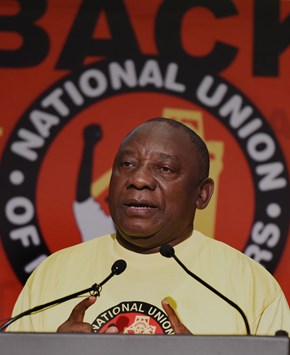 South African President Cyril Ramaphosa addressing the National Union of Mineworkers (NUM) in 2015. He served as the first NUM Secretary-General in the 1980s and 1990s. Image credit: Government ZA, Flickr.
The collective bargaining and individual member representation that are core elements of trade unionism are also excellent training grounds for every citizen in democratic societies. The peaceful resolution of conflict is what trade unionism is all about (even when people feel they have no option but to strike), and it has led many trade unionists to play a key role in peace movements, for example in Northern Ireland. Union action to get jobs for young people has often removed the cause of conflict by ensuring young men are not idle and prey to the advocates of violence. That is why the International Labour Organisation, established as part of the Versailles Peace Treaty at the end of World War One, starts its constitution with the assertion that "universal and lasting peace can be established only if it is based upon social justice."
The political role of trade unions can be a collective one, including election endorsements for the political parties which offer working people the most. This can often be controversial but is no different from the regular endorsements that economically liberal political parties receive from big business. Indeed, trade unions point out that they often have a democratic mandate from their members for the political support they offer political parties, whereas businesses rarely even consult shareholders, let alone customers and employees.
Unions also have a proud track record in supporting and promoting democracy in political life as a mirror for the democratic internal life of trade unions (and the role democracy plays as the over-riding Commonwealth value), from the role of the Nigeria Labour Congress and several other west African trade union movements in opposing military dictatorships to the more recent role of the Fiji trade union movement facing a similar challenge on the other side of the planet.
NLC March To National Assembly Over ASUU Strike

Nigeria Labour Congress has taken its protest to the National Assembly.

The protest is in solidarity with the striking members of the Academic Staff Union of Universities. pic.twitter.com/xdPSJMO5uV

— Punch Newspapers (@MobilePunch) July 27, 2022
When Robert Mugabe dragged then Commonwealth member Zimbabwe towards dictatorship, it was the ZCTU which established the Movement for Democratic Change (again, initially led by former ZCTU General Secretary Morgan Tsvangirai who became the Prime Minister eventually, but tragically was unable to replace Mugabe's noxious regime.)
In eSwatini, the Trade Union Congress of Swaziland (TUCOSWA) is one of the main voices in favour of establishing a multi-party democracy to replace the Tinkhundla system which governs the last feudal kingdom in Africa.
Trade union politics are not remotely only party political, though. Recently, the union representing immigration and border officials faced with a UK government policy of deporting asylum seekers to Rwanda took their employer – the British government – to court over the policy which they maintained would require their members to violate refugees' human rights.
Back in the 1970s, the Lucas Aerospace Shop Stewards Committee – as elected workplace representatives of unions are often called – responded to the cancellation of contracts for military aircraft that was threatening to close the company by developing an alternative plan for the company. They proposed to keep the skills and defend the wages of Lucas workers by switching to the manufacture of medical equipment, including kidney machines.
More recently, when the COVID-19 pandemic hit in 2020, the descendant of the Lucas Aerospace unions – Unite – helped another airplane manufacturing company – Airbus - switch to making ventilators to keep COVID-19 sufferers alive at a time when such medical technology was in life-threateningly short supply around the world.
Where once people spoke of 'beating swords into ploughshares', the global trade union movement now advocates turning 'weapons into wind farms' to address the climate crisis, because as leading global trade unionist (and Richard Marles' former colleague at the ACTU) Sharan Burrow argues, 'there are no jobs on a dead planet'.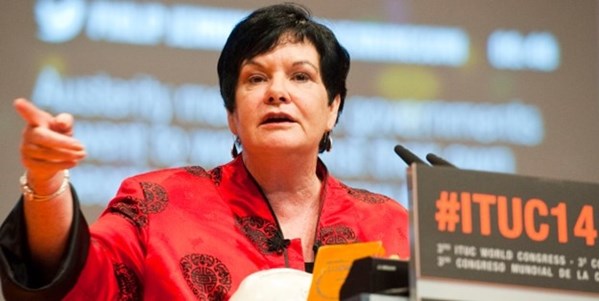 Sharan Burrow AC, General Secretary of the International Trade Union Confederation. Image credit: Owen Tudor
Whether it's a pay rise or saving the planet, trade unions are the voice of working people. Unions promote democracy in the workplace and in society as a whole. We work with democratic politicians and governments of every party and none. Treat our members fairly, and you will get the same response from us.
---
 About the author: Owen Tudor

Owen Tudor worked as a civil servant before gaining a philosophy, politics and economics degree from Oxford University and then worked in local government in the United Kingdom. He was recruited off a union picket line to work for the TUC in 1984 working on youth, training, disability and social insurance issues before taking over health and safety, disability and industrial injury compensation in the mid-1990s.
He represented the TUC on the tripartite Industrial Injuries Advisory Council and Health and Safety Commission, as well as the Social Security Advisory Committee and the Civil Justice Council, of which he was a founder member, as well as a number of international and EU boards. He is a member of the UK Executive Committee of the Commonwealth Human Rights Initiative, the Advisory Council of the Foreign Policy Centre and the Politics without Borders Advisory Board.
He was elected as Deputy General Secretary of the ITUC in December 2018 and is the convenor of the Commonwealth Trade Union Group.
More blogs from the CPA
Equality for all in the Commonwealth
To mark International Day Against Homophobia, Transphobia and Biphobia, Commonwealth Parliamentarians from Australia (Federal, South Australia and New South Wales), New Zealand and Canada share their experiences.