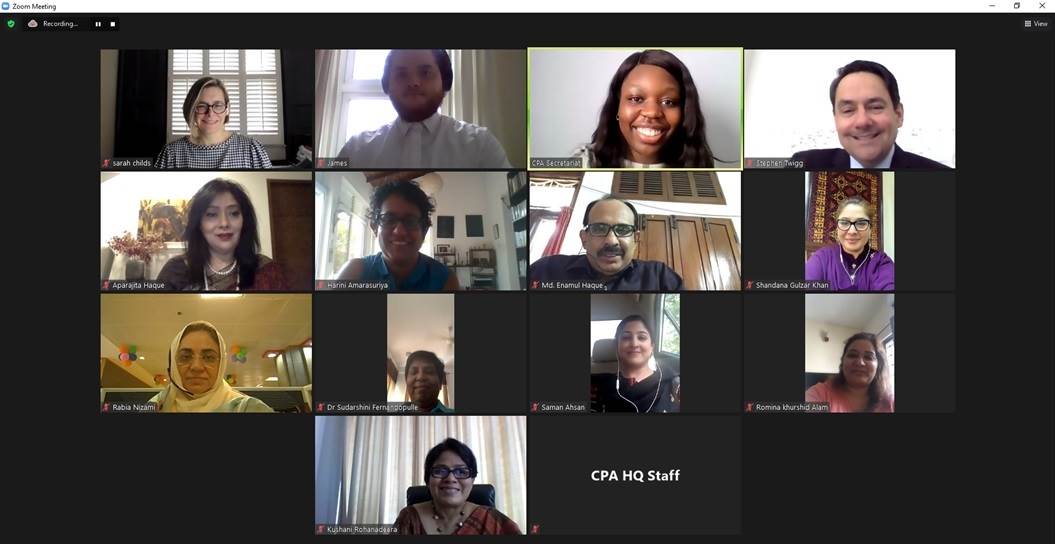 Asia Women Parliamentarians attend virtual roundtables on gender sensitive Parliaments
Commonwealth Women Parliamentarians from the Asia Region continue pertinent discussions on gender equality as CWP hosts virtual roundtables on gender sensitive Parliaments
Commonwealth Women Parliamentarians from the CPA Asia Region joined the ongoing discussion on how Commonwealth Parliaments can effectively establish gender sensitive practices as the CWP network hosted its virtual roundtable on gender sensitive Parliaments today.
The CPA Asia Region discussion attended by both male and female Parliamentarians and parliamentary staff provided attendees with an intimate forum where they were able to share and learn from each other's individual experiences. Importantly, attendees were equipped with the necessary tools and knowledge needed to begin or continue the process of implementing gender sensitive practices can in their respective Parliaments.
The CWP Chairperson, Hon. Shandana Gulzar Khan, MNA (Pakistan) welcomed attendees to the roundtable and began by highlighting that
"part of the problem we face in the Commonwealth is that only 34 of the 180 CPA Branches represented in the CPA have at least 30% women's representation in their Parliaments."
She stressed that "progress will not come from low aims or low ambitions."
The CWP Chairperson said that
"it is my hope and wish for all women Parliamentarians that we do not wait for the future to catch up with us but that we become the future and we bring the future to our people. The more women Parliamentarians that are empowered and have their voice at the table, the more voices we can use to create change."
The CWP Chairperson ended her remarks by urging all CPA Branches to take advantage of the opportunity provided by the CWP network to undergo a gender sensitive review for their respective Parliaments.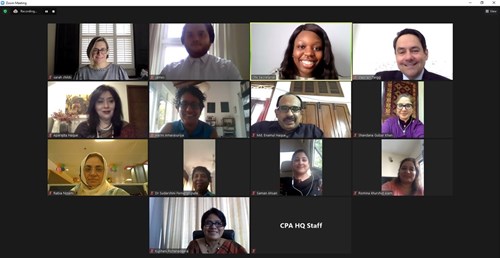 The following Branches from the CPA Asia Region were represented at the roundtable: Bangladesh; Khyber Pakhtunkhwa; Pakistan; Punjab; Sindh and Sri Lanka. A representative from UN Women Pakistan also attended the roundtable discussion.
The CWP roundtable forms part of 
a series of virtual Regional discussions that will be delivered for all nine Regions of the CPA
. The roundtables will seek to facilitate a united Commonwealth approach to increasing the number of gender sensitive Parliaments across the Commonwealth. The programme builds upon the recent 
CWP Gender Sensitising Parliaments Guidelines: Standards and a Checklist for Parliamentary Change
 that was successfully launched in October 2020. These guidelines provide an outline of gender sensitising standards which Commonwealth Parliaments can use as a benchmark to achieve.
For more information about how your Region can participate in a CWP Roundtable: Gender Sensitive Parliaments in the 21st century virtual roundtable discussion and for future dates, please contact CWP Network Coordinator, Ms Bénite Dibateza at benite.dibateza@cpahq.org.  

-ENDS-
The Commonwealth Women Parliamentarians (CWP) was founded in 1989 to increase the number of female elected representatives in 180 Parliaments and Legislatures across the Commonwealth and to ensure that women's issues are brought to the fore in parliamentary debate and legislation. The network campaigns for gender equality in all spheres. For media enquiries, please contact communications@cpahq.org.