Commonwealth Parliamentarians meet in Sierra Leone to discuss building an inclusive society at the 52nd CPA Africa Regional Conference
Commonwealth Parliamentarians from across Africa have met in Freetown, Sierra Leone from 1 to 9 June 2022 to attend the 52nd Commonwealth Parliamentary Association (CPA) Africa Regional Conference on the theme of 'The role of African Parliaments in building an inclusive society to counter growing insecurity in Africa', with a view to explore and share ideas and perspectives on how to strengthen democracy in Africa.
At the official opening ceremony, the President of the Republic of Sierra Leone, His Excellency Julius Maada Wonie Bio gave the keynote address and said to Parliamentarians:
"I must add that the strengths of our democracies in the Commonwealth have endured, thanks to the role of Parliaments. You debate, modify, adopt and pass legislation on policies, positions and visions. You are tasked with voicing diverse views and approving the aspirations of citizens. That is no mean task."
The CPA Africa Region President and the Speaker of the Parliament of Sierra Leone, Rt Hon. Dr Abass Chernor Bundu MP also welcomed delegates to the Regional Conference which brought together almost 300 delegates from Branches across the CPA Africa Region - from both national and sub-national Parliaments.
The CPA Secretary-General, Stephen Twigg attended the Regional Conference to reiterate the CPA's commitment to the CPA Africa Region and the importance of securing a new legal status for the CPA as an international inter-parliamentary organisation.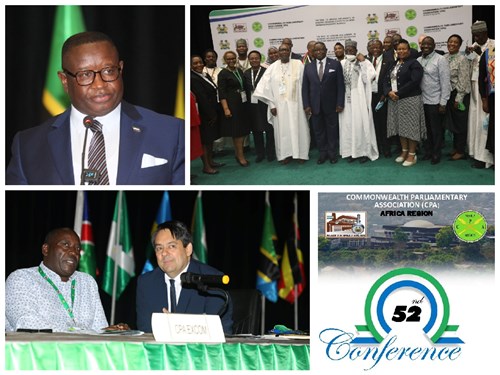 To view more images of the Regional Conference please click here.
During the Regional Conference, the Speaker of the Parliament of Malawi, Rt Hon. Catherine Gotani Hara was elected as the Chairperson of the CPA Africa Region Executive Committee in succession to the Speaker of the National Assembly of Kenya, Rt Hon. Justin Muturi.
The Commonwealth Women Parliamentarians (CWP) Africa Region was represented by Hon. Kayanga Baroda MP (Uganda) who called for greater focus on gender inclusion and women's participation in political, social, economic and development processes in the Africa Region. The CWP Africa Region also convened for a Regional Steering Committee meeting and a gender-sensitisation workshop. 
The African Region of the Society of Clerks-at-the-Table (SoCATT) in Commonwealth Parliaments also held its Annual General Meeting in the margins of the Regional Conference.
The CPA Africa Region is one of nine CPA Regions across the Commonwealth, and it comprises 63 national and subnational Legislatures. The CPA Africa Regional Secretariat is based in the Parliament of Tanzania.
-ENDS-
The Commonwealth Parliamentary Association connects, develops, promotes and supports Parliamentarians and their staff to identify benchmarks of good governance and the implementation of the enduring values of the Commonwealth. The CPA is an international community of around 180 Commonwealth Parliaments and Legislatures working together to deepen the Commonwealth's commitment to the highest standards of democratic governance.

For media enquiries, please contact communications@cpahq.org.
Find out more
What We Do
Find out more about our projects, programmes, outputs and activities