Commonwealth Women Parliamentarians
Commonwealth Women Parliamentarians from CPA British Islands and Mediterranean Region focus on attracting more women into Parliament at regional conference in Gibraltar
Twenty Women Parliamentarians from seven Legislatures have examined a range of initiatives to increase the numbers of women in Parliament, to protect MPs against online harms and to ensure that Parliaments are gender sensitive institutions.
The Commonwealth Women Parliamentarians (CWP) British Islands and Mediterranean (BIM) Regional Conference was hosted by the Gibraltar Parliament and the CPA Gibraltar Branch from 4 to 7 October 2022. Delegates were welcomed by the CWP BIM Regional Chairperson, Hon. Samantha Sacramento, MP (Gibraltar) and CWP Regional Vice-Chairperson, Hon. Rhianon Passmore, MS (Wales). Delegates attended from Guernsey, Jersey, Isle of Man, Malta, Scotland, Wales, Gibraltar and the United Kingdom as well as the CPA Secretary-General, Stephen Twigg.
Delegates discussed attracting and retaining more women Parliamentarians and held an outreach event with local women in Gibraltar to discuss the opportunities available in political life. A key discussion topic was online harm and online safety and the delegates explored how Parliaments across the CPA BIM Region are responding to the escalating problem of online harms, particularly towards women MPs, with practical training on digital self-defence and safety responses to online abuse.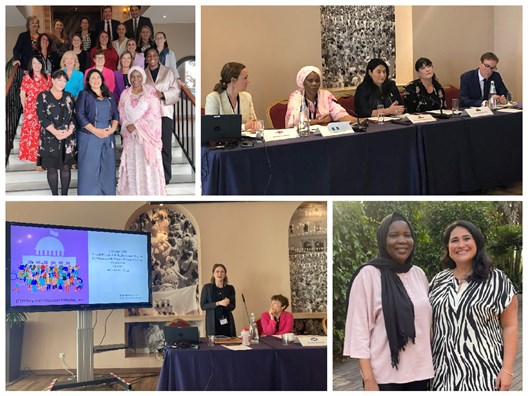 Delegates at the CWP British Islands and Mediterranean Regional Conference in Gibraltar. For images of the Regional Conference please click here.
The programme also included sessions focusing on Gender Sensitive Parliaments, a key focus for the CWP network, asking if Parliaments are doing enough to respond to the changing demographics of their elected representatives. Dr Jessica Smith (University of Southampton) presented the findings of her report for the region on 'Effective and Inclusive Parliaments'.
The recently elected Chairperson of the Commonwealth Women Parliamentarians (CWP) network, Hon. Dr Zainab Gimba, MP (Nigeria) spoke at the regional conference and thanked the BIM Region for their inspiring work on gender equality.
In her remarks, the CWP Chairperson also highlighted the need to increase the representation of women in Parliament which can be done through engaging male champions and advancing the work to ensure that Commonwealth Parliaments become gender sensitive institutions.
"Whilst there are numerous examples of women changemakers across the Commonwealth achieving extraordinary progress, the responsibility to re-gender Parliaments cannot and should not continue to be seen as an additional burden placed on women Parliamentarians and stakeholders alone. Rather, gender balance and gender sensitivity can only be achieved when all stakeholders partner and support women Parliamentarians in addressing and eradicating harmful practices and procedures, formal and informal rules, norms, behaviours, barriers and restrictive parliamentary cultures." The CWP network will continue to advance these goals through its initiatives and activities.
The CWP BIM Regional Chairperson, Hon. Samantha Sacramento, MP (Gibraltar) said:
"The CWP has the specific focus of supporting women Parliamentarians and it provides an exciting opportunity to connect with colleagues from across the region to compare approaches to the challenges that we face with the common ambition to attract and retain committed and effective women Parliamentarians.
In line with the CWP mandate and my commitment to the further the equality agenda locally, I wanted to use this opportunity of having so many women Parliamentarians in Gibraltar to help us address the issue of the acute underrepresentation of women in Parliament by providing a unique event for women in Gibraltar who are interested in politics to join like-minded women meeting other women politicians so they may learn from each other and encourage other women to look at politics and feel like they also belong. The aim is to promote discussion of political life locally and hopefully this will serve as one more tool to encourage more women to stand for election at the next opportunity."
Above: Gibraltar's Ros Astengo at GBC News interviews Commonwealth Women Parliamentarians about gender equality in Parliaments and combatting online abuse: Interviews with the CWP Chairperson, Hon. Dr Zainab Gimba, MP (Nigeria); CWP BIM Regional Chairperson, Hon. Samantha Sacramento, MP (Gibraltar); CWP Regional Vice-Chairperson, Hon. Rhianon Passmore, MS (Wales); Hon. Marlene Hassan Nahon, MP (Gibraltar); Hon. Ann Corlett, MHK (Isle of Man); Rt Hon. Karen Bradley, MP, Hon. Kate Osamor, MP, and Rt Hon. Dame Eleanor Laing, MP, Deputy Speaker of the House of Commons (United Kingdom); and the CPA Secretary-General, Stephen Twigg.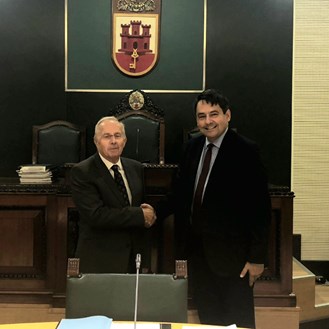 Above: During his visit to Gibraltar, the CPA Secretary-General, Stephen Twigg met with the Speaker of the Gibraltar Parliament and CPA Gibraltar Branch President, Hon. Melvyn Farrell, MP at Parliament House to discuss ongoing collaboration and support for Members of Parliament.
-ENDS-
The Commonwealth Women Parliamentarians (CWP) was founded in 1989 to increase the number of female elected representatives in 180 Parliaments and Legislatures across the Commonwealth and to ensure that women's issues are brought to the fore in parliamentary debate and legislation. The network campaigns for gender equality in all spheres.
For media enquiries, please contact communications@cpahq.org.