Commonwealth Parliamentarians focus on challenges facing democracy at 2022 Athens Democracy Forum
Twenty-three Members of Parliament and eight officials from Commonwealth Parliaments attended the 2022 Athens Democracy Forum from 28 to 30 September 2022.
The Forum brings together innovative approaches to overcome the challenges facing democracy and keynote speakers included the President of European Commission, the President of Ukraine and a former United Nations Secretary-General. The Forum was organised by the Democracy and Culture Foundation and celebrated its tenth anniversary this year.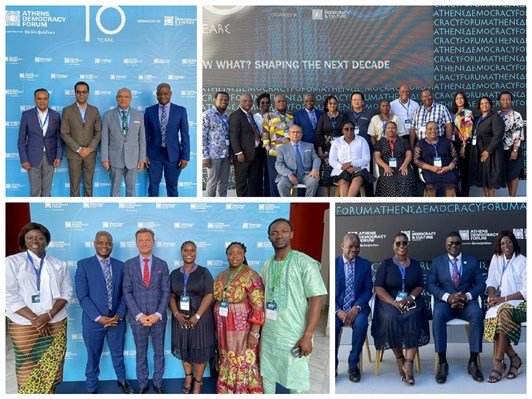 The Commonwealth Parliamentary Association brought together delegates at the Forum from South Africa (Limpopo, KwaZulu-Natal, North West Provincial Legislatures), the National Assemblies of Mozambique, Cameroon and Mauritius, the Parliaments of Ghana, Sierra Leone and Cyprus, and the Turks and Caicos House of Assembly.
The CPA Deputy Secretary-General, Jarvis Matiya said that the CPA was very pleased to be attending the Athens Democracy Forum 2022 - a platform for reflection on the key challenges facing democracy, good governance and freedoms.
-ENDS-
The Commonwealth Parliamentary Association connects, develops, promotes and supports Parliamentarians and their staff to identify benchmarks of good governance and the implementation of the enduring values of the Commonwealth. The CPA is an international community of around 180 Commonwealth Parliaments and Legislatures working together to deepen the Commonwealth's commitment to the highest standards of democratic governance.

For media enquiries, please contact communications@cpahq.org.
Find out more
Knowledge Centre
Discover CPA resources from our library, blog, podcast and research service